select a course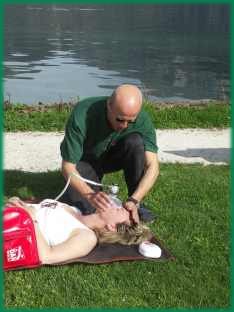 First Aid for divers.
Scuba diving is amongst the safest outdoor-sports known. But IF a divers needs help, he needs oxygen. Lotīs of it for quite some time and chances are heīll recover fully.
DAN (Divers Alert Network) is an international non-profit organisation dedicated to the research and prevention of diving accidents. DAN also runs and supports some deco chambers at popular dive sites.
Please look at the DAN curriculum to see what we are going to learn in this course.
It is recommended to combine the DAN with an EFR (Emergency First Response) course to refresh your CPR and other first-aid skills.
The more well educated emergency first responders are around, the better are my chances in the unlikely event I personally needed help, no? Therefore this course is given practically for free, you just pay my expenses and the material.
Sharkforce provides free DAN insurance to all students during their diving courses. Click on the DAN logo to get insurance coverage for your exciting new hobby.


Course materials
Course materials include:
DAN workbook,
O2 Provider Flowchart,
bag and diploma,
decals

Certified divers receive a DAN "OXYGEN FIRST AID" card and can also get a PADI "distinctive Speciality".